BioRep offers high quality molecular biology services, including nucleic acid purification, sequencing, and genotyping. Starting from analyses performed on DNA and RNA by PCR (Polymerase Chain Reaction) and subsequent sequencing or electrophoretic separation according to the size of nucleic acid fragments, BioRep molecular biology laboratories have optimized a wide variety of genetic tests, allowing analysis and studies ranging from molecular genetics and molecular oncology (predictive testing, early diagnosis) to pharmacogenetics (individual response and drug side effects), to the identification of genetic markers for specific diseases (hereditary thrombophilia). BioRep staff is able to offer a complete service of scientific and technical advice for the creation of personalized methods for nucleic acid analysis, including purification of nucleic acids from different sources, choice of suitable primers, amplification and final sequence analysis.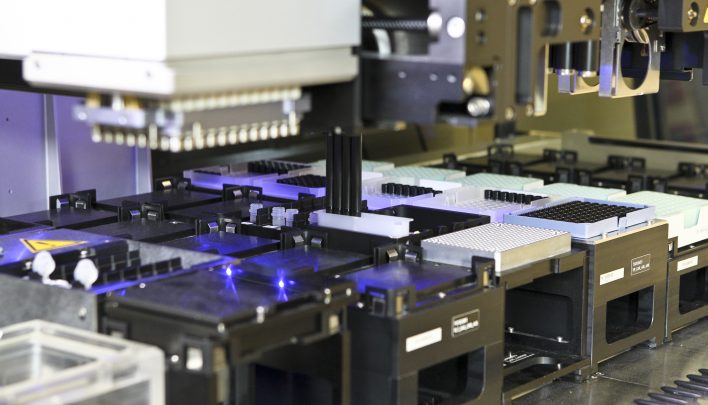 Nucleic acid purification
The laboratory is able to extract DNA (genomic, plasmid) and total RNA from different biological matrices (blood, cell lines, saliva, buccal swabs, paraffin tissues, microorganisms) by manual or automated methods. Methods for the purification of microRNA from blood or cell cultures are also available. The nucleic acids obtained are subjected to thorough quality control. In particular, RNA and microRNA are analyzed on a microfluidic platform to determine, for example, the integrity number (RIN -RNA integrity number). The extracted nucleic acids can then be aliquoted and prepared for distribution to researchers or stored within the BioRep storage area.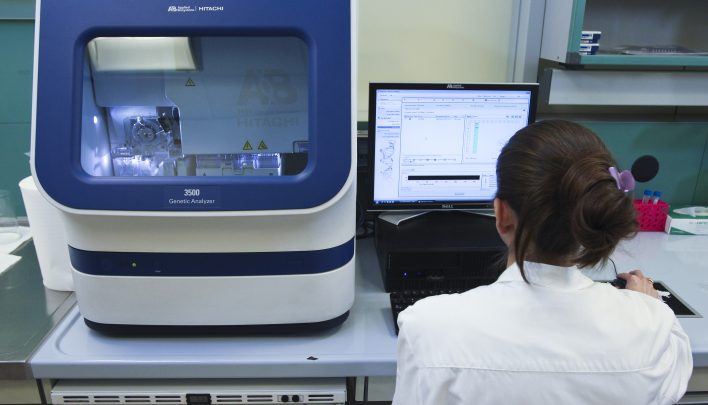 Genotyping and Sanger Sequencing
Genotyping is applied to analyze genetic differences between individuals or cells. BioRep offers the analysis of polymorphic microsatellite markers through DNA amplification (PCR Polymerase Chain Reaction) and subsequent capillary electrophoresis. This service has found application, for example, in zygosity studies between twins or in the verification of the identity of samples received. In addition to this, it is possible to investigate the number of repetitions of certain nucleotide sequences known to be associated with genetic diseases (e.g. the repetition of the "CAG" triplet linked to Huntington's disease). Sex determination is performed by amplification (PCR) of a portion of the Amelogenin gene and subsequent capillary electrophoresis.
BioRep offers a DNA sequencing service using the Sanger method, based on amplification products or plasmid DNA. The sequencing reaction used is based on the use of terminators marked with fluorophoresis and subsequent capillary electrophoresis. Depending on requirements, sequencing of the individual DNA strand or both can be carried out. The service may include the entire sample preparation process, i.e. extraction of the source DNA, amplification and subsequent sequencing. BioRep also provides a range of Real-Time PCR assays and services for DNA assay, gene expression analysis, mutation and polymorphism detection using appropriate chemistry (TaqMan, KASP, SybrGreen probes).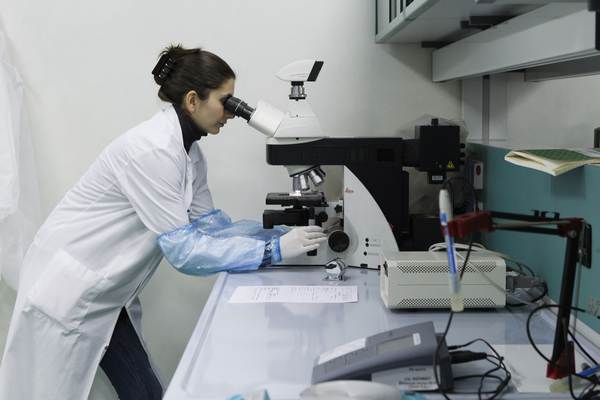 Microbiological analysis
The microbiology laboratory currently performs mycoplasma contamination detection tests on cell lines. These analyses are based on molecular methods (Real-Time PCR), in particular amplifying the genome region encoding the 16S rRNA with specific primers. This allows detecting the presence of different species of mycoplasma. This technique is highly sensitive and requires minimal sample quantities. Other methods of investigation offered are the growth on specific soils for mycoplasma and possible Hoechst staining. It is also possible to identify bacteria (e.g. Escherichia coli, Bacillus subtilis, Pseudomonas aeruginosa, Salmonella enterica) by sequencing the 16S rRNA region. These identifications are useful to refine the quality control of food, pharmaceutical and cosmetic companies.