Cryobiological and cryogenic Containers
BioRep is the official, authorized and exclusive distributor for some products of Chart-MVE steel and aluminum containers and HVM cryogenic containers. BioRep offers the highest quality solutions for the management of cold space, providing technologically advanced equipment, able to guarantee the safety and quality of the cryopreserved sample.
Products for the Storage of Organic Samples
BioRep offers the widest range of Chart-MVE products for short and long-term storage in liquid nitrogen and nitrogen vapours. These containers, subjected to the strictest quality controls, guarantee the best vacuum performance, a high level of reliability and high resistance to use.
Chart-MVE product certificates: CE, MDD, UL, IATA, TGA and ISO 9001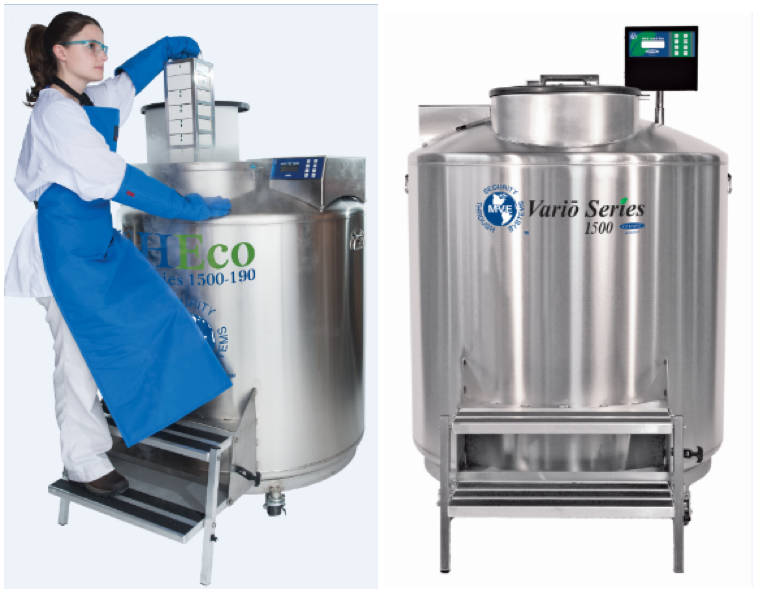 Stainless steel containers with automatic filler
The Chart-MVE high performance cryobiological stainless steel containers are equipped with a control unit for temperature control, liquid nitrogen level and automatic liquid nitrogen filling, with relative optical-acoustic alarms and can be connected to centralized monitoring and control systems.
These containers are specifically designed to store in nitrogen vapours or in liquid nitrogen immersion a large number of biological samples, from 5,000 to 90,000 in 2 ml vials or blood bags or straws, through the setting up of the storage chamber with standard or customized furniture.
Some versions also allow to set and modulate the internal temperature, acting directly on the control unit, in a range from -20°C to -150°C.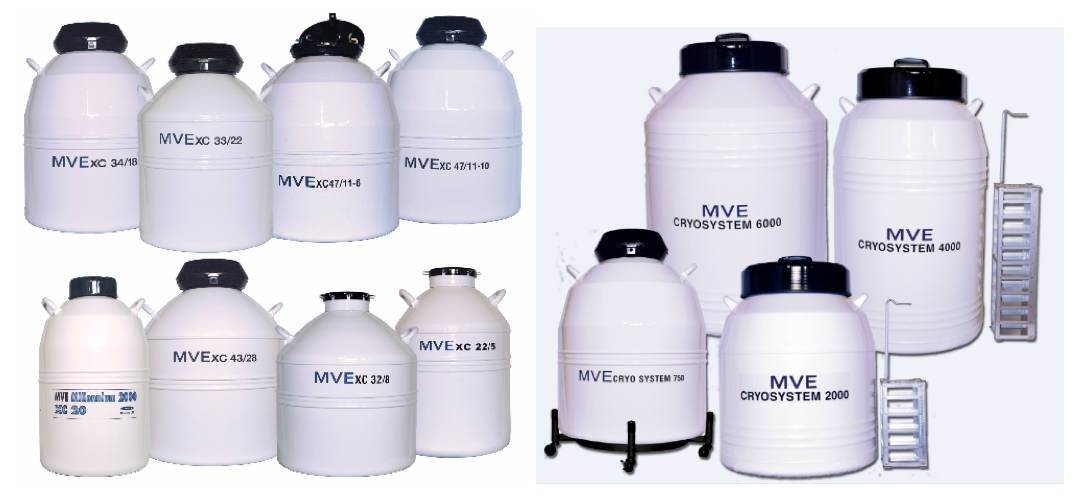 Aluminium Containers with manual filling
The Chart-MVE aluminum cryobiological containers are designed to store medium-low quantities of biological samples, s and vials up to 6,000 units, guaranteeing at the same time good autonomy and low consumption of liquid nitrogen.
these containers are light and easy to handle due to their aluminum structure and the presence of a wheeled base, which are well suited to the needs of assisted reproduction centres and small research biobanks.
Containers for transporting biological samples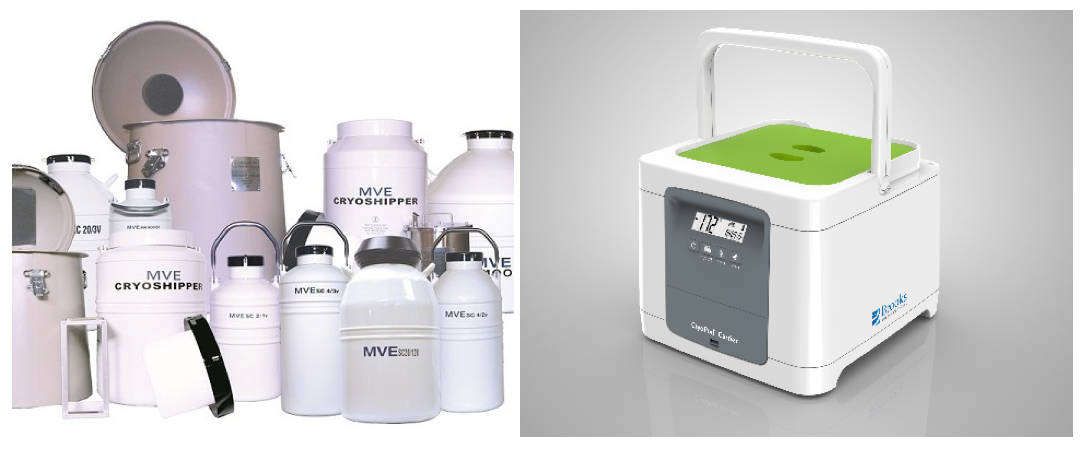 These are stainless steel or aluminum cryobiological containers which are ideal for the transport of cryopreserved biological samples (vapor shipper) in nitrogen vapour, are equipped with graphic recorders of the temperature during handling (data logger) and are in line with ADR and IATA regulations.
The presence of an internal hydrophobic membrane, which absorbs nitrogen in liquid form and releases it in the form of vapours, helps to maintain an internal temperature of -150°C. The autonomy can reach up to 20 days, with a recharge time of 3 hours, for long distance routes, or up to 4 hours, with a recharge time of 10 minutes, for intra-hospital or emergency transfers.
Products for the storage and transport of liquid nitrogen only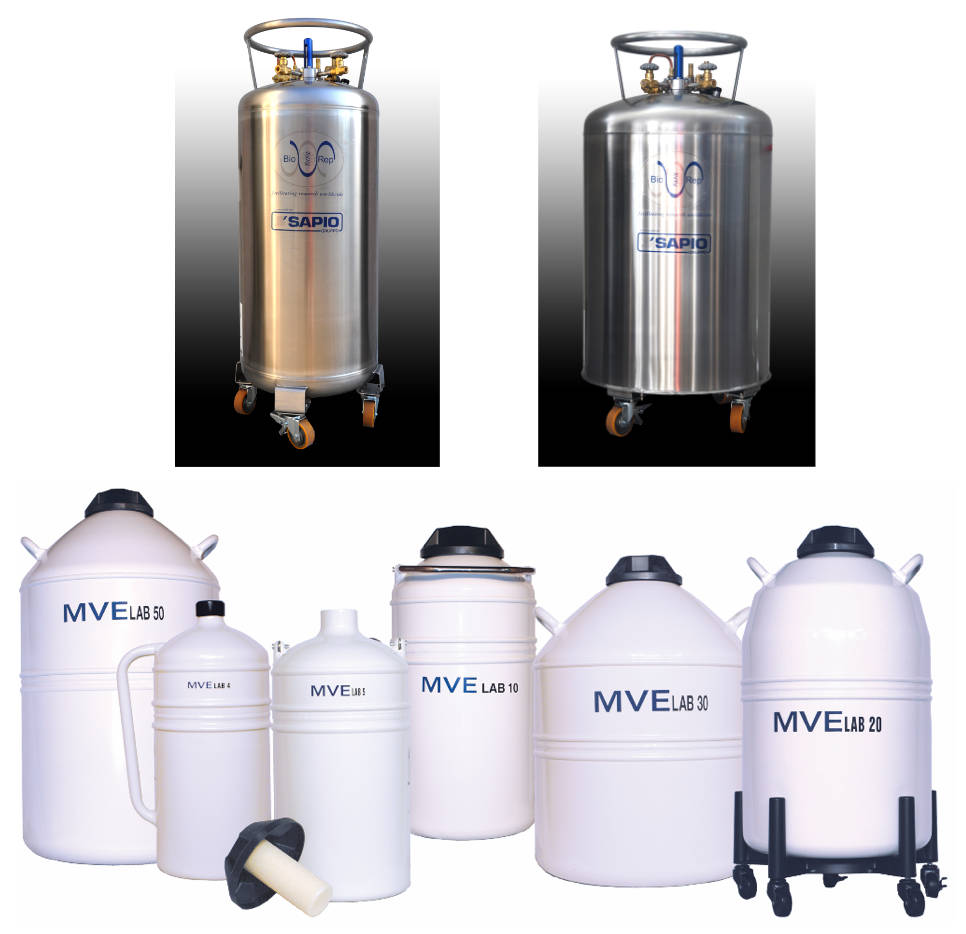 Cryogenic tanks are specifically designed for the transport and storage of liquid nitrogen only. They are used to manually refill cryobiological containers or are directly connected to automated equipment.
They can be self-pressurizable, usually made of stainless steel, they allow the conservation of very high volumes of nitrogen from 30 litres up to 600 litres and can be moved thanks to the presence of wheels welded directly on the cover of the container.
Others, on the other hand, can be made of aluminum and allow the storage and transport of limited quantities of nitrogen, from 4 to 50 litres, light and easily transportable by lifting or with the help of a dedicated wheeled base.