"Turn key" storage Centers
The need to store valuable biological samples (cells, tissues, gametes, etc.) requires efficient organization based on trained and competent personnel, standardized operating procedures, state-of-the-art technologies, an effective monitoring and control system and an adequate backup system in case of emergency.
Thanks to its technical-scientific know-how, obtained in over 15 years of activity, BioRep is able to design, build, maintain and start up your biological resource centre, complying with the latest national and international regulations and guidelines.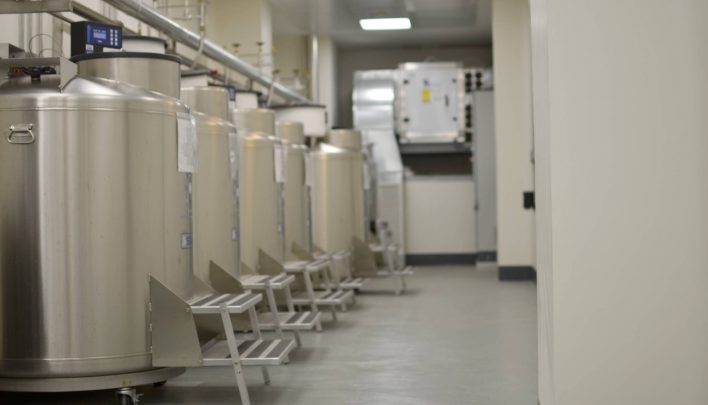 DESIGN AND CONSTRUCTION OF BIOLOGICAL RESOURCE CENTERS IN COMPLIANCE WITH ISO 9001:2015 CERTIFICATION
BioRep provides turnkey solutions for the realization of biological material banks (cell lines, tissues, nucleic acids, blood, blood products, stem cells). The technical-scientific background allows BioRep to provide assistance in the design, implementation and management of biological resource centers according to international standards and guidelines.
CRYOBIOLOGICAL EQUIPMENT
BioRep offers state-of-the-art equipment for the conservation of biological material, together with a complete technical assistance and maintenance service. BioRep offer covers all conservation needs: cryobiological containers for storage in liquid nitrogen and nitrogen vapours, programmable freezers for gradual freezing of material, refrigerators and mechanical freezers and personal protective equipment.
TURNKEY RESEARCH LABORATORIES
Based on specific customer needs, BioRep also offers integrated solutions for the construction of basic research laboratories, clean rooms and GMP laboratories for cellular and regenerative therapy (Cell Factory) complete with monitoring, control system and management software compliant with FDA CFR21 PART 11 and the latest revision of the GAMP (Good Automated Manufacturing Practices) regulations.
SAMPLE MANAGEMENT SOFTWARE
BioRep offers a user-friendly and highly reliable sample management software platform that guarantees traceability at all stages of the process and storage allowing identification, recording and archiving through a dedicated barcode.
MONITORING AND CONTROL SYSTEM
BioRep has designed and developed a system to monitor and control data and parameters from equipment for the conservation of biological material. The system has the possibility to send e-mails, sms and calls to available personnel. It is an integral part of the offer and guarantees the environmental monitoring (sub-oxygenation levels) of the process laboratories (access control, incubators, cold rooms) and of the cryobiology room (access control, cryobiological containers, mechanical refrigerators…).
TOTAL BANK MANAGEMENT
BioRep is the only biological bank able to process and store biological material on behalf of third parties, together with the service of creating biological resource centres. Its technical and scientific know-how is made available to the client in the set up and start-up of new facilities for the conservation of biological material. The Total Bank Management service includes all the elements necessary to manage the entire biological material conservation process in an efficient and safe way.