Cryopreservation Services
Cryopreservation allows long-term storage of biological material (cell lines, stem cells, tissues, biological liquids, nucleic acids …) at very low temperatures. A special barcode is given to each sample delivered and handled by BioRep, in order to guarantee its traceability and to handle its anonymization.
Biorep is able to offer the following services:
LIQUID NITROGEN AND VAPOUR PHASE CRYOPRESERVATION
Liquid nitrogen (-196 °C) cryopreservation:
Using sealed vials in liquid nitrogen in order to avoid contamination.
Nitrogen vapour phase (-150°C/-190°C) cryopreservation:
Using plastic vials with screw cap in nitrogen vapours in order to avoid contamination.
Nitrogen vapour phase (-80 °C) cryopreservation:
Thanks to the innovative MVE Variō™ tank, with a special technology allowing nitrogen vapours storage in a modular -20 °C and -196 °C temperature range. It is possible to store plastic tubes with screw caps in nitrogen vapours even at -80 °C temperature.
MECHANICAL FREEZERS CRYOPRESERVATION
Mechanical freezers (-80 °C, -40 °C, -20 °C and +4 °C) cryopreservation:
Mechanical freezers have regulated badge access and a liquid nitrogen backup system.
REMOTE BACK-UP CRYOPRESERVATION
Liquid nitrogen storage
Nitrogen vapour phase storage
Mechanical freezers storage
MOGM CRYOPRESERVATION
BioRep is an authorized facility by the Italian Ministry of Health for the use of Class 2 GMMs according to n. 206/2001 Legislative Decree.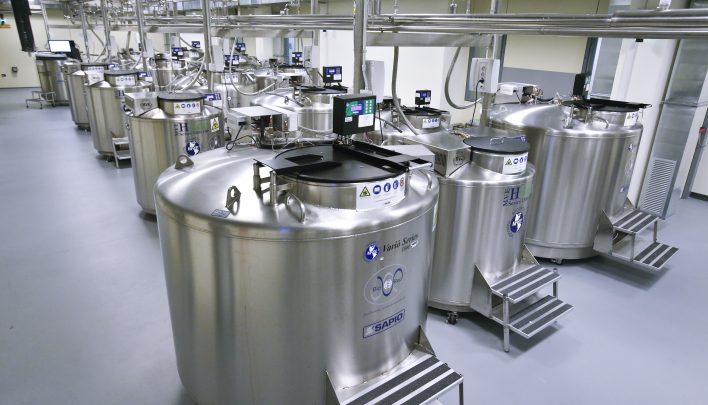 BioRep preserves and distributes high quality biological samples. Each sample is identified and stored using cutting-edge technologies. The high quality of the stored samples, obtained thanks to excellent laboratory staff training, together with continuous control of processes and tools and rigorous back-up systems, is the main feature of the BioRep quality system.
The structure includes an integrated 24-hour monitoring and control system capable of monitoring all the critical equipment of the structure together with a latest generation alarm and remote storage system.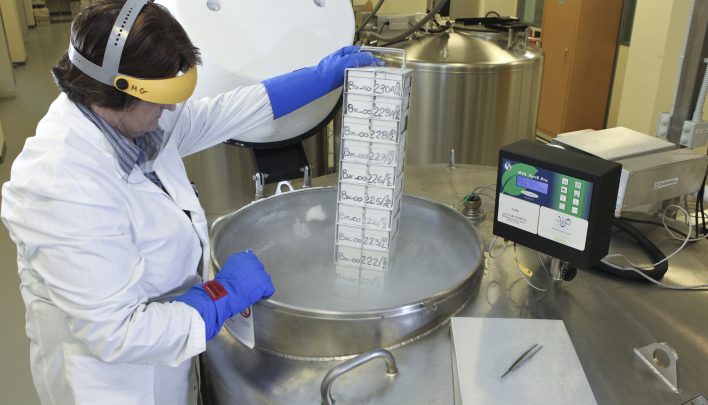 In order to guarantee safe and high-quality storage, BioRep has tried to optimize and standardize some processes such as: different collection kits for each type of sample, different acquisition conditions from different collection points, supply of packaging instructions and documentation shipping. Once in BioRep, each sample is examined to assess its conditions and to verify that the content corresponds to the manifest; BioRep's working procedures have been designed for the consistency and protection of each sample received.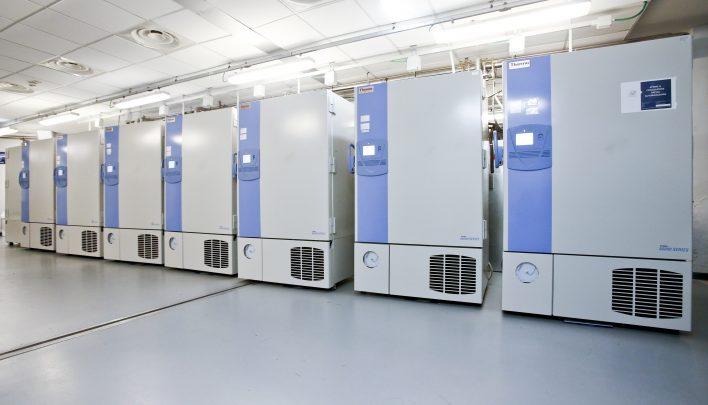 Every single specimen is registered in the central database and labeled with a two-dimensional barcode. This highly advanced and customized database maintains a complete history of each sample. With just a few buttons, BioRep's LIMS software is able to generate a detailed report of when a sample was received, thawed, fractionated, tested or manipulated. The sample management software provides a sophisticated electronic traceability system that allows you to trace each sample and to find it immediately, when necessary.